It took me a really long time to figure out how to streamline the financial efficiencies on our farming operation.
But here's the amazing thing about the world today: I can take lessons I've learned over most of my life, package them into a blog post or a podcast episode, and deliver them to you free of charge.
The lesson in this case is how to save a lot of money in annual farming expenses. To help you trust that I'm qualified to teach the lesson, you need to know how I came to learn it.
My Story...
I was born and raised in South Dakota, in a small farm town of 99 people. My father was a farmer, as was my grandfather before him; so I've been riding in tractors and inhaling the sweet, yeasty smell of corn since I was a kid.
About 30 years ago, my dad invented some farm equipment; he called it the Anderson Opener. It allowed farmers to put their small grains and fertilizer down in one pass. It was technology that really helped farmers, and it inspired me early on to develop something equally helpful some day.
I went to college at the University of Nebraska, where I became interested in finance. I had stars in my eyes over the stock market, publicly traded investments, and the way the captains of industry in the late 1800s and early 1900s made fortunes investing in stocks and speculating in futures and exchanges.

When Warren Buffett and Bill Gates came to my university for a Q&A, it was a tipping point for me. If a guy like Warren Buffet from Omaha could make it on Wall Street, so could Scott Anderson from Andover, South Dakota.
After college, I was fortunate enough to have contacts who connected me to a job in New York—on Wall Street no less, working in investment banking. During that time, I continued to expand my finance education. I took a CFA (Chartered Financial Analyst) level one exam and went to Switzerland for a month to study finance at the Swiss Finance Academy.
I learned enough to totally change the lens through which I saw farming when I returned to South Dakota a few years later. Farming, and really all commodities at that time, were on their way to record highs. Anyone could make money farming. Unfortunately the music had to stop and the tide went out revealing those who were swimming without bathing suits. But my fortunate string of financial education had prepared me to weather the new challenge.
The Creation of Cash Cow Farmer
Back in South Dakota, I took over the farm operation and started to figure out the most efficient way to grow crops in our area. Most importantly, I wanted to determine precise production costs. Each field has a different productive capacity, and I wanted to know the cost of every bushel of corn and every soybean in our farm's inventory.
On Wall Street, I had used spreadsheets to model out corporate finance such as mergers and acquisitions; I could analyze what a company looked like at the time and how their efficiencies would change if they merged with a given company.
So I used that experience to build spreadsheets for the farm. I would first build a budget and then record our actual production costs, and I discovered some very valuable information.
We'd been renting 600 acres for 25 years from a certain woman. She had just increased our rent, and I realized that the fields were not in ideal locations and didn't fit our operation well. My spreadsheet told me we were paying $150 an acre in rent, but only making $10-20 an acre.
We cut those 600 acres, which is unthinkable for many farmers. But for me it was economical. Yes, our operation will be 600 acres smaller, but we were losing money in those fields, so retaining them wasn't worth it.
By the fall of 2014, the value of corn and soybeans had dropped by 30%. Everybody was losing money on their books. People were nervous, locally and around the world. So I thought I should share my spreadsheet, because one of the most comforting things for a farmer (or any business owner) is knowing exactly where you are financially.
But for many people, the spreadsheet was too complex to be practical. It was 27 pages long and had to account for everything. It was intimidating. I wished I could hide all the calculations so that a farmer could simply input what they paid (from their receipts) and applied (from their maps and controllers.)
It was time to upgrade the spreadsheets.
Around this time I went to Startup Weekend, a startup entrepreneurial event. The concept is that you pitch an idea for a business. If it's selected by the audience, you can build a team, build your minimum product by Sunday, and present it in front of a panel of judges who are successful entrepreneurs.
I pitched Cash Cow Farmer on Friday night. Out of 30-40 ideas, twelve were picked, including Cash Cow.
I picked my team of 6 people, and we built a prototype and presented it. It was a hit, and we launched in December of 2014. The software is based in the cloud, accessed from a phone, tablet, or computer. We've found that when we present the idea to farmers, they realize it's exactly what they need.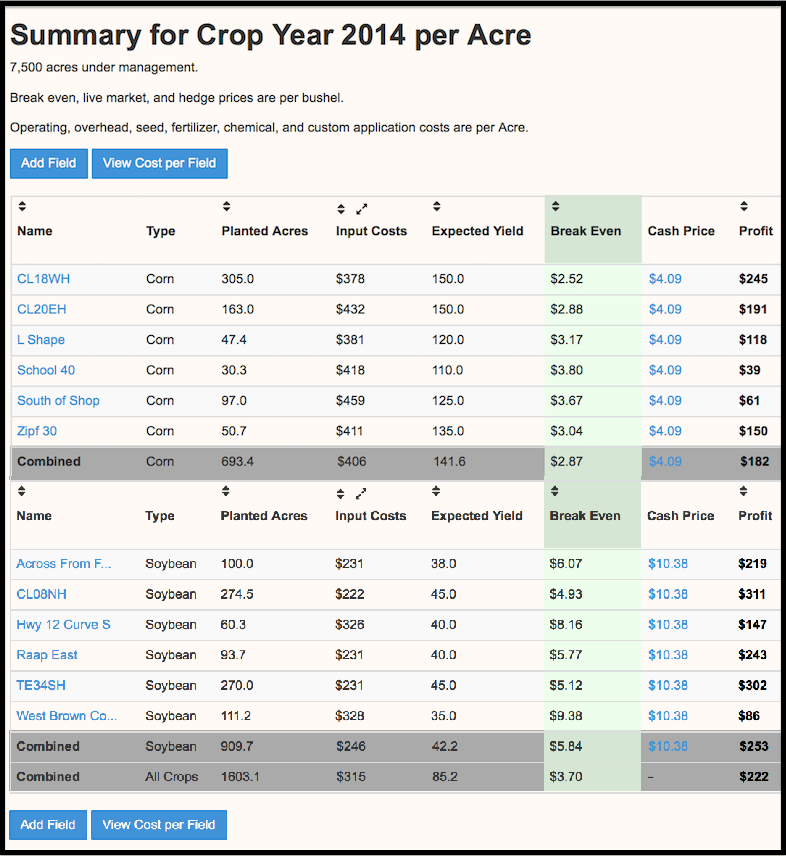 My own farming has benefitted tremendously from Cash Cow, especially as I prepared for 2015. I knew how much my operation had spent in 2014, and I used that data in Cash Cow to determine what I could afford to pay in 2015. I could present that information to the people I wanted to buy from and work out the best deals for our farm.
Our billing procedures were also transformed by Cash Cow. In day-to-day billing, so much activity gets written down, shuffled around, and misbilled all the time.
If, say, I get billed for $22 for Roundup when I've pre-payed $19, I can pull up my price sheet on Cash Cow and locate exactly what I negotiated for the product. So much money would slip through the cracks without the Cash Cow software to reference.
It helped me again when we had a recent spike in commodity prices for corn and soybeans. I knew it would cost me $2.95 cents to grow a bushel of corn, and the cash price to sell it came out to about $3.60. I determined that I might as well sell; the profit margin took all the emotion out of the decision.
Farmers try to call the top of the market, but that's a dangerous game to play. Not many people can call the top, but you never go out of business selling at a profit.


How to save $50,000+
Now to deliver on the promise of the title: how can you save $50,000+ in annual farming expenses?
The answer is simple and probably obvious by now: By using Cash Cow Farmer!
And the sweetest part of the deal is that little plus you see after the number. Our farm saved at least $50,000 just by calling out billing mistakes. Since that's only one small part of what Cash Cow does, you could potentially save hundreds of thousands of dollars or more after applying it across your operation.
Conclusion
Farming is the toughest job in the world, in my opinion. During the majority of the year, it's the riskiest and one of the most labor intensive jobs in existence.
Last weekend, we had a hail storm that wiped out several crops. Another time, we had both a drought warning and a flood warning in the span of a single week.
Farming is really hard, but Cash Cow makes it easier. Most farmers aren't fortunate enough to have the financial training that I have, which is why I've taken that training and created a tool for the everyday farmer.
You can try a free trial of Cash Cow Farmer for 30 days. I guarantee that if you do, you'll be able to see how the software can save you piles of cash and utterly transform the efficiency of your farming operation.