---
Find out about "NEW TOOLS TO INCREASE YIELDS AND PROFITS"

March 17–18, 2015 SIOUX FALLS CONVENTION CENTER
SDSU's College of Agriculture & Biological Sciences will host the 2015 Western Corn Belt Precision Farming Conference & Expo on March 17-18 at the Sioux Falls Convention Center (1101 N. West Ave).
The conference will bring together precision agriculture industry, academic, and producer leaders to view and discuss the precision agronomic latest innovations and management. New and innovative machinery will be on display. A broad spectrum of precision agronomic experts will be presenting ideas in multiple different forums.
AGENDA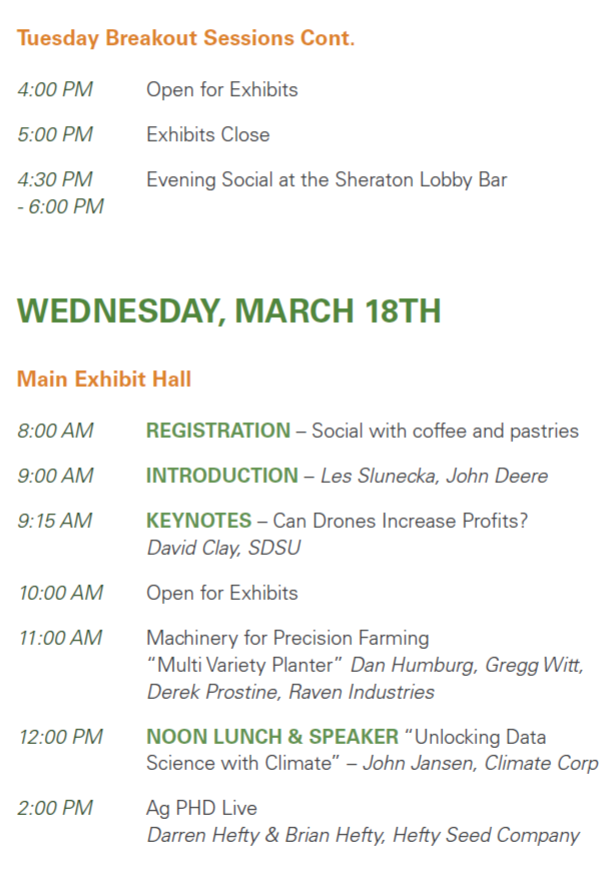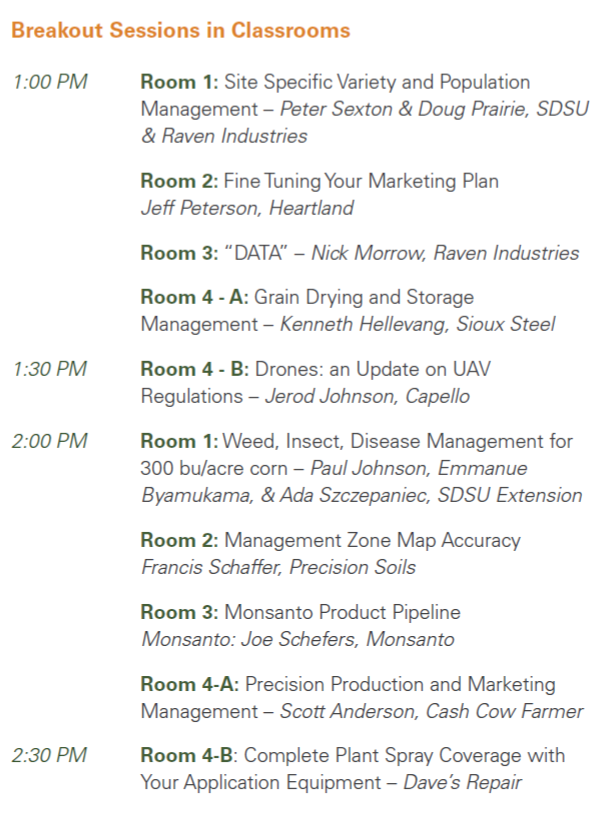 Presenters and their info:
Alvaro Garcia SDSU @SDSUANRDirector LinkedIn
Gregg Carlson SDSU
Frank Kralicek SDSU
Scott McKee Farmer
Newell Kitchen SDSU
Rick Molemar, Climate Corp
Jeremy Groeteke, Pioneer @Groeteke LinkedIn
Dr. Sam Eathington, Monsanto LinkedIn
Darren Hefty Hefty Seed Company @darrenhefty
Brian Hefty Hefty Seed Company @brianhefty
Febina Mathew SDSU
Jack Davis SDSU
Kurt Reitsma Pioneer LinkedIn
Paul Johnson SDSU
Emmanue Byamukama SDSU @SDSUPlantPath LinkedIn

Ada Szczepaniec SDSU @aszczepan
Ron Clark, Dakota Trailer LinkedIn
Erik Johnson, Leading Edge Technology @agdrones Linkedin
Ryan Molitor, Raven Industries Linkedin
Shane Swedlund, Raven Industries Linkedin
Larry Mortensen, Capello @capelloheaders
Kenneth Hellevang, Sioux Steel @siouxsteel
Aaron Farnzen SDSU
Francis Schaffer, Precision Soils
Scott Anderson, Cash Cow Farmer @cashcowfarmer
Les Slunecka, John Deere Linkedin
David Clay, SDSU
Dan Humburg SDSU
Gregg Witt, Raven Industries Linkedin
Derek Prostine, Raven Industries
John Jansen, Climate Corp Linkedin
Doug Prairie, Raven Industries Linkedin
Jeff Peterson, Heartland
Nick Morrow, Raven Industries Linkedin
Jerod Johnson, Capello @capelloheaders Linkedin
Joe Schefers, Monsanto @JoeSchefers Linkedin
Troy McKown, Precision Planting @mckown_troy
Early (available until March 16, 2015): 1 day $50, 2 day $$80, student $20/day
General admission (available at the door): 1 day $55, 2 day $85, student $25/day
Contact Les Slunecka, 605.731.9385 for more information and exhibitor packages.