S.D. farmboy turned investment banker creates farm management program
Original Article By Tracy Frank
After growing up on a South Dakota farm, Scott Anderson became a Wall Street investment banker.
But when his dad retired, he moved back to the family farm near Andover and brought some of his Wall Street wisdom with him.
He created a spreadsheet to help manage the fields and calculate his costs to grow each bushel, field by field. When he tried sharing his spreadsheet with other farmers, however, he found it was too complex.
"There were so many formulas and algorithms that it was unusable by anybody but me," he said.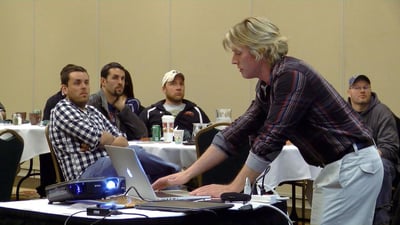 Still, he knew there was something valuable in what he had done, so in September he pitched his project at a startup event in Minneapolis for technology entrepreneurs.
His was one of 12 projects chosen out of 40 presenters for further development. He met with a team of developers and salespeople, and they created the management and marketing program, CashCow Farmer, which they released in December.
"It's been going really well," Anderson said. "Farmers are really interested in signing up, mainly because the pressure on margins this year is really bad."
Bankers also like the program, he said, because it's a true financial statement for farms.
"Farmers don't always sell within that calendar year, so their income is always fluctuating greatly based on when they sell," he said. "This tells the banker and the farmer what they can expect to make on that crop."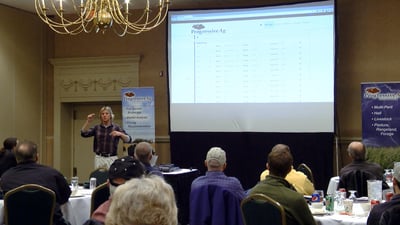 Anderson was in Fargo recently to talk about CashCow Farmer at a Progressive Ag marketing seminar.
"Farming is so capital-intensive, we've got to be real savvy to make it work," he said.
The program, he said, is user-friendly and allows farmers to manage each field like a separate business by measuring what it costs to produce a bushel of grain on each field. It helps them understand which fields are making money and which are not so they can make informed farm management decisions, he said.
"It simplifies the process so the farmer just has to think about those things that change in his production," Anderson said. "If the yield changes, how is that going to change my income? If I don't do a certain application of fertilizer or if I buy a certain chemical at this price, how is that going to change my income?"
The farmers he talks to, he said, typically use Excel spreadsheets or pencils and paper.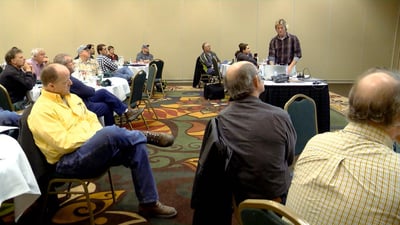 Nate Yourchuck of Minneapolis, the program's main developer and chief technology officer, said most people appreciate the program's simplicity.
"It's very easy to enter in the numbers and it steps them through a process of building on a price sheet, seeing how much money they paid for fertilizer, how much they paid for seeds," he said. "Then they enter in their fields, how big each field is, how many seeds they're planting in each field, how much fertilizer they're applying, and the program does all the calculations for you to tell you how much money you're going to make on each field."
CashCow farmer costs $750 to $1,500 a year, and can be purchased through Progressive Ag or at https://cashcowfarmer.com.
"In farming and in any sort of business, luck favors the prepared, those people who are most prepared to take advantage of opportunities when they come," Anderson said.